Enjoyable Borrower Journey, the 1003 App that is Fun
Loanzify's intake is unlike any other. From the interview style questionnaire to the user-friendly interface and borrower portal, the Borrower Journey isn't just simple - it's clear, enjoyable, and customizable to your brand!
Intuitive UX Design
Loanzify's attractive interview-style questionnaire uses simple instructions, visual prompts, and a progress bar to motivate borrowers to complete the mobile-optimized application with ease.
Personalized To Originator and Borrower
Configure your intake with Loanzify's simple yet powerful "if-this-then-that" automation. Add questions and drop-downs, hide fields, and edit text with just a click.
Branded Intake Experience
Add your logo, customize the color scheme, change home screen and navigation, and edit the content to match the look and tone of your brand. Spanish 1003 also available.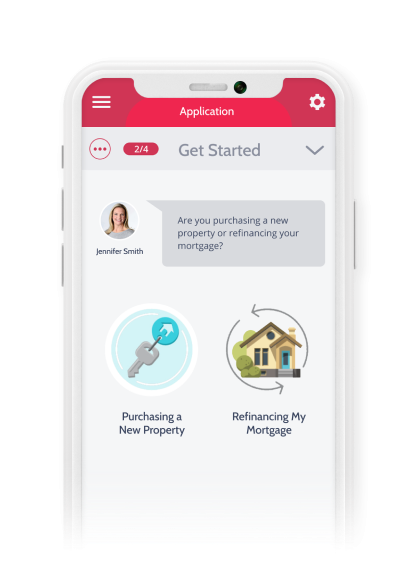 ---
Dynamic Needs List, Automation and Reminders
Borrowers upload documents to a secure, organized, and compliant digital environment where you and your borrower can check the loan status in real-time, from any device.
Needs List
Loanzify POS intuitively guides borrowers through their documentation Needs List while instant asset verification eliminates tedious data entry tasks for all.
Flexible Uploader
Borrowers can upload documentation via drag-n-drop or photo from their desktop or mobile device into their portal where you can review, accept or reject the files.
Compliant and Secure
Loanzify POS adheres to global security standards and SOC-2 compliant data centers. The 256-bit SSL certificates ensure sensitive data remains private while entering, sharing, and storing information. Also meets Web Content Accessibility Guidelines (WCAG) 2.1.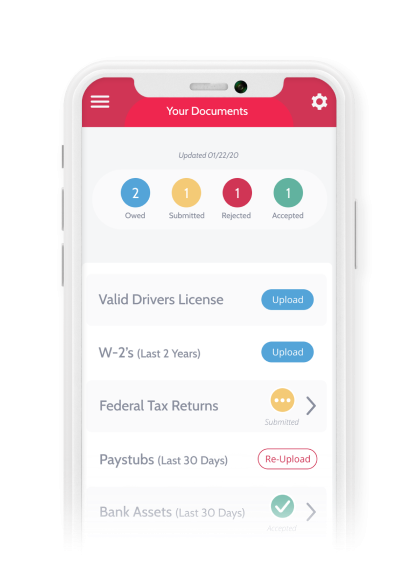 ---
Credit Pull includes Borrower Self-Pay
Loanzify POS unifies, automates, and mobilizes the entire ecosystem of loan origination. One important piece is the Borrower Credit
Integration
Loanzify POS offers a large network of Credit Reporting Agencies which includes yours. Just add your credentials, and you are set.
CreditConnect (In-App Borrower Self-Pay)
An industry game-changer which can wipe out $1,000's of expense from your bottom line by allowing borrowers to pay for their own credit report while in app.
Smart & Flexible
Loanzify offers features that will benefit every mortgage workflow such as Refresh and Soft-Pulls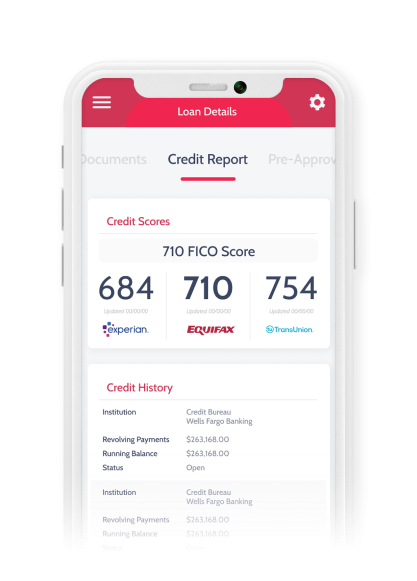 ---
Pre-Approval Letters for Borrowers & Realtors
Set it and Forget it. You no longer need to be tied to your desk to create Pre-Approval Letters. Empower you Borrower and Realtor Partners to do it dynamically and on demand - when they want it.
Self-Serve
"Self-serve" design allows Borrowers and their Agents to auto-generate pre-approval letters, quickly and securely.
Customized to your Brand
Pre-approval letters are dynamically branded with your logo and contact information out of the box. You can further edit the templates and make them even more customized if needed.
Set it & Forget it
You're in control - preset the max pre-approval amount for each file and then simply watch the pre-approval letters roll in. Your Borrowers will love it that they can do those letters on demand and when they need it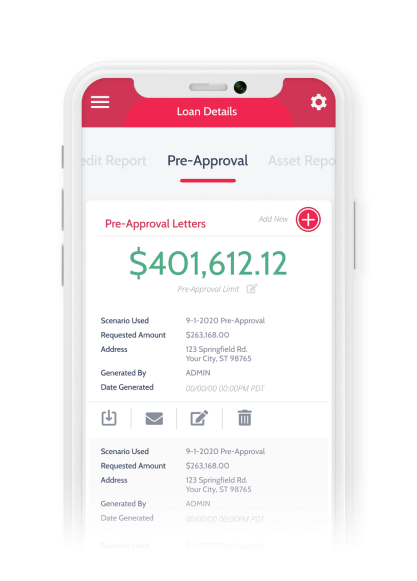 ---
User Friendly Milestone Tracker
Keep all stakeholders informed and up-to-date with the status of the loan.
Enhanced Communication
The intuitive Milestone Tracker is an automated and pressure-free way to walk your borrowers through the lending process, helping them complete the application quickly while giving you insight for managing their loan remotely.
Customizable
Loanzify POS comes with a predefined set of milestones out of the box. However, you can customize your Loan Milestones. Expand or collapse the predefined timeline to fit your needs & requirements.
Automated
Automates the loan update process to make it fast, simple, and transparent.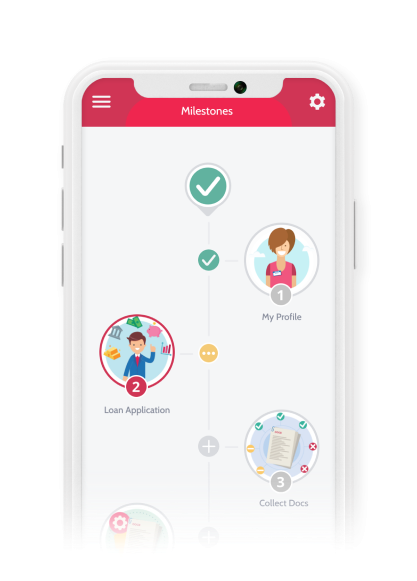 ---
Day-1 Certainty
Loanzify POS integrates with the top third party vendors to bring you the complete digital solution.
Improved Borrower Experience
Comprehensive VOA and VOE integration expedite and enhance the Borrower experience of the verification process.
Customizable
Ability to turn on manual and/or hybrid modes with improved UI styling.
Reporting
Robust reporting and audit trails for the Enterprise clients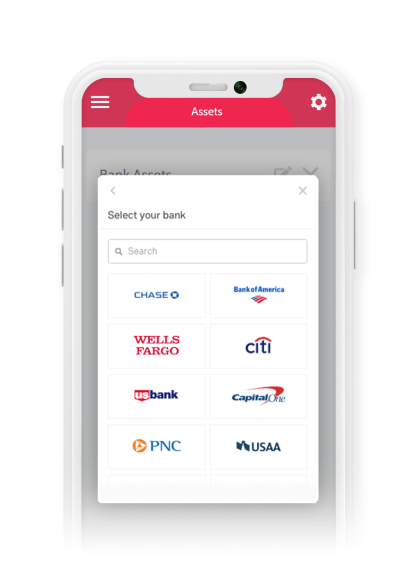 ---
Group Messaging to Collaborate with Loan Team and Realtor Partners in Real Time
With multiple and customizable communication channels, you can provide your borrowers and stakeholders the information they need quickly and accurately.
Engage and Chat
Automated SMS notifications send gentle reminders to help borrowers stay on task. Templated emails, autoresponders, and in-app instant messaging help to keep the borrower engaged and their loan moving forward.
Team Collaboration
Loanzify POS archives all communication and actions taken on the loan file. Features like peer-to-peer notes, checklist creator, team chat, and configurable partner access help keep everyone productive and plugged-in.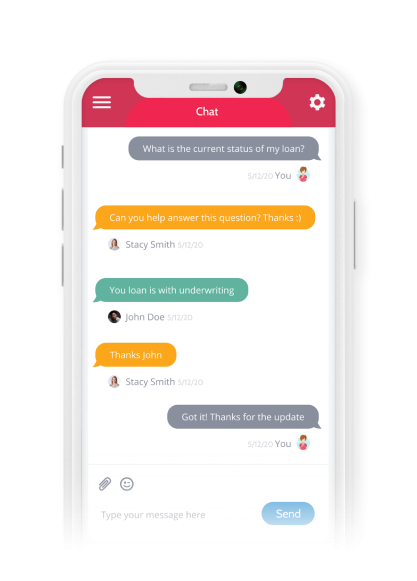 ---
Alerts and Notifications
Loanzify's automated notification system sends critical alerts via chat, push notification, email, or SMS that enhance transparency and productivity.
Timely
Event- and data-driven notification triggers increases and accelerates closing rates.
Customizable
Loanzify comes with professionally-written email templates out of the box, but you can customize the text and branding of all communication
Integration
Loanzify can integrate with LOS and CRM vendors and adjust notifications to remove duplication and clutter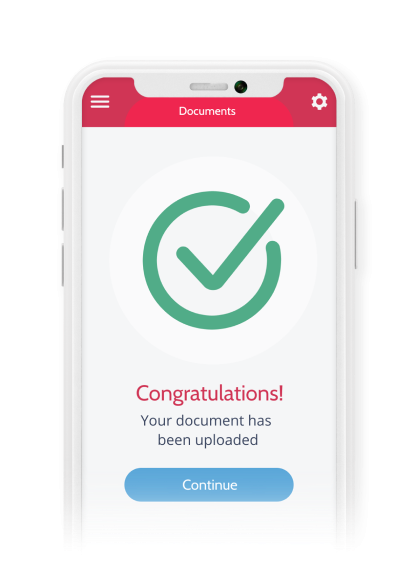 ---
Tools to Delight your Borrowers & Partners
Confidently manage your pipeline for maximum efficiency and profitability while delivering a phenomenal Borrower Experience.
Calculators
Engage prospects with modern, accurate, and attractive Mortgage Calculators. Users can calculate monthly payments, APR, amortization, principal & interest, payoff date, as well as mortgage insurance, HOA, hazard insurance, and local property tax components.
API
Loanzify POS public API amplifies mobile office capabilities with integrations between your CRM, LOS, asset verification, e-sign, and other essential loan service providers.
Integrations
Seamlessly interface with 3rd-party applications like video-conferencing, accounting software, email campaigns, project management, and more.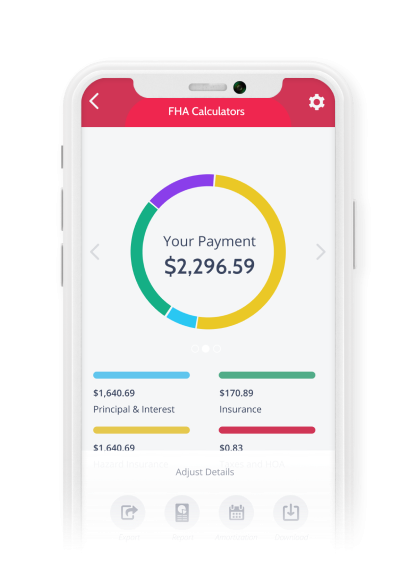 Industry Partners
---
Proud to partner with some of the industry leaders